Employment Opportunities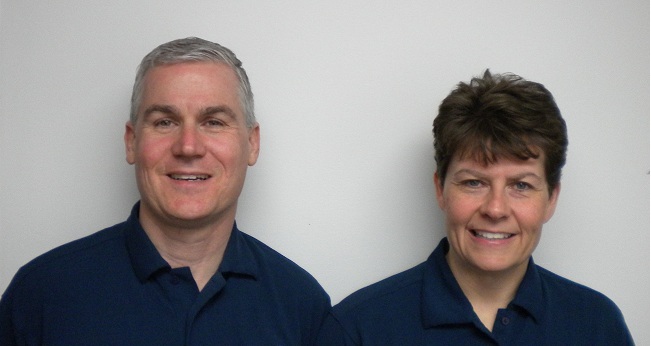 Hello, we are Darren & Susan Klein and we and thank you for your interest in employment with our company, Carpet Cleaning Excellence. You could be well on your way to a very rewarding experience. The company is enjoying some tremendous growth, and we are looking for quality people to join our team.
We would like to begin by telling you a little bit about our background, who we are, and what we stand for. We started Carpet Cleaning Excellence in the 1980's. Everyone involved is a big part of the business and we like to keep a tight camaraderie between us. As the owners, we are very involved in the day-to-day operation of the business and we are always there for anyone that needs our assistance. This is how we prefer that the business would continue to run. Everyone else on the team prefers it this way as well.
After 30+ years in business, we now have a very large database of the most awesome clients that we work for on a regular basis, and this number continues to grow daily. Our number one goal is to provide the best possible service to our clients so that we are the cleaning company of choice in the area. The service we provide our clients is the absolute best available. Everyone on our team is committed to this goal and does whatever is necessary to accomplish this on a daily basis. You will be interacting with our cleaning, marketing, and administrative staff on an ongoing basis.
As you can see from this website, we guarantee "The Most Thorough Cleaning Ever, or It's FREE!" We make this bold offer in everything we do, and we stand behind this offer 100%. We use the best equipment, the best supplies, and offer the best training.
We offer our team members everything they need to be a success in the positions they hold with Carpet Cleaning Excellence. But in order to make this all come together, the final link is you. None of this would even be possible without the help of all of the people on our team who take great pride in their work. If this sounds like something you would like to be a part of, we strongly encourage you to browse our website, video, and social media pages to make sure that you subscribe to the same ethics as we do.
The position of Carpet Cleaning Technician for Carpet Cleaning Excellence is a very rewarding experience for the team member, as well as the clients that you come into contact with. No previous carpet cleaning experience is required, but your ability to work with people is an absolute must. This is a job that involves a combination of (doable) manual labor, technical expertise, and providing exemplary client relations. A highly important skill that any Carpet Cleaning Technician must possess is a high proficiency in communicating with the clients that we perform services for. You must be able to effectively assess, address, and solve a variety of cleaning concerns.
We need good, motivated people to train to be future route managers or team leaders in other areas of our company. We pay $17.00 per hour to start / train as an entry-level employee with no experience if you have the right background and the intense desire to succeed. In time, with your continued reliability, dedication & increased skills you may be eligible to earn appropriate wage increases. You'll learn by doing, from the bottom up.
Most of all, we want to give you the chance to grow with us. More seasoned technician pay will be commensurate with verified experience and proven bend-over-backwards customer service. Extra consideration will be given to individuals who have concrete floor scrubbing and VCT vinyl floor stripping and waxing experience.
Does This Sound Like You? If So, You May Be Just Who We're Looking For!
You're bright, energetic, and looking for a career with a future. You're not into working all day at a desk on computers. Maybe you've tried college but "book studying" is not your thing. You're a high-energy person and get satisfaction from working with your hands, but you want more than just a job as a laborer with no future. You like dealing and speaking with people and enjoy making them happy. You're not into the dead-end drug scene. You are capable of lifting ~75-80 lbs.
The following is a list of skills that you must bring with you in order to join our team: The desire to be taught, and the ability to learn from others. A neat appearance that is presentable, as you will be a guest in our client's homes. You are honest and trustworthy. You like and are able to be around animals. You are a person of your word and want to be an accountable member of a fantastic team. A good work ethic, as carpet cleaning definitely involves manual labor. A valid state driver's license and a good driving record. The ability to have fun. This is a very enjoyable place to work.
The following is a list of the skills you will learn during the first year of employment and training while working with our Master Carpet Cleaner: You will learn how to effectively communicate with people. You will become a teacher to our clients that they will respect and trust. You will be in the process of learning proper cleaning methods and becoming an expert in the field. Successful candidates will be eligible to enter certification training provided by the IICRC (Institute of Inspection, Cleaning, and Restoration Certification, now Clean Trust). This certification will be paid for by the company. For more information about the IICRC (Clean Trust), you can go to www.iicrc.org.
I'm Really Interested, What Do I Do Now?
If this position sounds like it is for you, your next step is to get some information into my hands that will allow me to learn more about you. You may apply for a career with Carpet Cleaning Excellence by submitting a COPY/PASTED version of your resume to info@klein-cleaning.com. You may also answer and submit the questions on the left. Take some time and be honest, this can be a valuable learning experience for you as well.