Every job we do comes with our 100% Risk-Free Guarantee.
If you are not happy with our work, we will re-clean the area for free. If you are still not pleased, you pay nothing.*
Why do we do this? Because we want you as a satisfied and repeat customer for the life of your carpet and upholstery.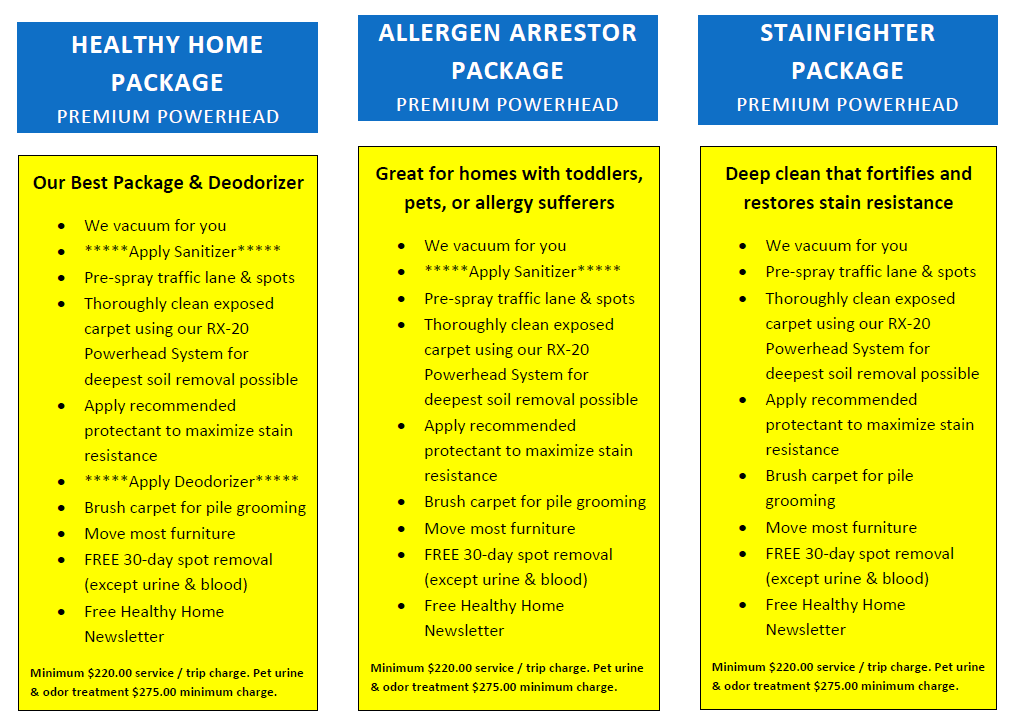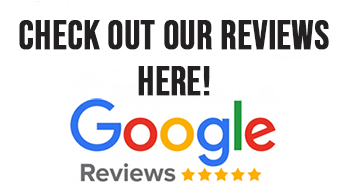 Q. Why do all of your packages come with carpet protection?

A. Carpet protection is, in many ways, just as important as carpet cleaning. While cleaning will remove soil
today, our protectant will allow vacuuming to remove 50-60% more dry particulate soil while also helping
to prevent spots and spills from becoming permanent stains tomorrow. Our clients receive the added benefit
of easy breezy carpet maintenance in between high-quality, deep steam cleaning service appointments.
How Much Will My Carpet Cleaning Cost?
CARPET CLEANING PRICING DETAILS

Our 2021-2022 minimum call-out charge of $220.00 typically covers 2-3 rooms & a hallway (rooms are assumed to be occupied at 50-60% capacity with furniture or other items) or 200 sq. ft. of empty / open floor space.
Our sq. ft. pricing for residential carpet cleaning ranges from $.60 to $.80 per sq. ft. on average.
Cleaning that involves extreme soiling or unusual circumstances will be priced accordingly.

We do not charge "by-the-room"

. We only charge for the open or non-covered square footage that is actually cleaned.
Pricing information provided over the phone is a good faith, sight-unseen

estimate

. Our carpet cleaner will be the one to determine the final pricing once they arrive onsite.

Final pricing is based

on the measured square footage, package chosen,

the existing level of visible / excess soiling, accessibility for cleaning, and any specialized spot removal or optional add-on treatments.

If you only have a small amount of carpet (or upholstery), the minimum call-out charge will apply. This may be a consideration if you are working with a specific or limited budget.
Pet urine and odor removal treatment (which includes the carpet cleaning) has a $275.00 minimum service charge.
Carpeted staircase cleaning ranges on average from $3.00 to $5.00 per step.
In-home area rug cleaning for standard rugs ranges on average from $1.00 to $4.00 per sq. ft.
Linear ft. pricing for upholstery or furniture cleaning ranges on average from $20.00 - $30.00 per foot or is priced by the piece.
Final pricing for upholstery cleaning is based on the fabric type (cleaning of natural fibers is more), level of visible/excess soiling, accessibility for cleaning, specialized spot removal, and (optional) fabric protection.
Ceramic tile cleaning ranges from $.50 - $1.00 per sq. ft. Optional ceramic tile sealing ranges from $.50 - $.75 per sq. ft. (this is in addition to the cleaning price).
You may also request a complimentary in-home cleaning estimate. We will inspect your carpet, measure the areas you want cleaned, discuss your options and areas of concern, and then provide you with the upfront pricing that will never change at the time of your cleaning (should you choose to book with us). It only takes 20 minutes and is completely free of any upsells, sales, or booking pressure. Really!
A company owner will be the one to provide the quote and subsequently clean your carpet or furniture.
COMMERCIAL CARPET CLEANING pricing ranges on average from $.15 to $.30 per sq. ft. Minimum call-out charge of $220.00 applies. Call for a site survey to obtain an exact quote. A company owner will provide the quote and subsequently clean the carpet in your business.
Special or unexpected or cleaning situations may require price adjustments outside of the general pricing estimates detailed here. A remobilization charge may apply for logistical, communication, or other client issues that arise and require we return at a later date.
Payment is expected on the date of service unless otherwise arranged or quoted prior to the cleaning taking place. We accept cash, check, or credit cards. Corporate accounts are invoiced according to the terms included in our written quote.
We offer safe, No-Contact payment processing. Choose from over-the-phone or onsite touchless mobile NFC or chip payment options.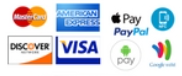 Susan Klein, Master Carpet Cleaning Technician
Over 30 Years Cleaning Carpet and Hard Flooring In Metro Detroit
Residential & Commercial Carpet Cleaning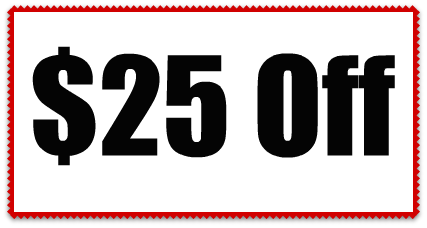 NEW CLIENTS: CLAIM YOUR $25.00 OFF TODAY
*100% Risk-Free Guarantee Terms & Conditions
If you are not happy with a specific area, or areas, we must be notified in writing or by phone within 72 hours of your service. We will come back out (as soon as our schedule allows) to inspect and re-clean the areas of concern at no extra cost to you. If you are still not satisfied, contact us within 72 hours of your re-service and we will provide a 100% refund. This guarantee applies when a full-service scope of work is rendered. RESERVICE APPOINTMENT WINDOW: Re-service must be performed within 7 business days of the client's notification to our company.
Carpet that is already worn or damaged may require a waiver to be signed should the client decide to move forward with the cleaning after we have determined that no-to-minimal reasonable improvement will be made in the identified problem areas. We provide all carpets with a deep-down, professional clean, but there are times when even the most thorough, quality cleaning will not improve or reverse existing, unsightly, or chemically-induced impairment (i.e., permanent staining, bleaching, carpet fiber damage, carpet padding failure, adhesive residue, or excessive DIY 'over the counter' or DIY treatment using products that contain bleaching agents or acids such as vinegar). We recommend treating any spots or areas of concern with a proper blotting process and safe products that have the Carpet and Rug Institute's Seal of Approval (SOA). Always call in a trained professional right away and maintain a schedule of regular professional carpet cleanings at carpet cleaning industry recommended frequencies for best results and outcomes.
EXCEPTIONS: 1) Carpet, rugs, or furniture containing any percentage of viscose (please check the attached manufacturer tag). Viscose is a low-quality material that is prone to react or damage to (even an expert) cleaning quite easily. We assume no responsibility if the client insists on moving forward with cleaning anything with viscose in it. 2) Post-construction or post-remodel work where there is contractor activity taking place. We assume no responsibility for carpet or other flooring affected by contractors on the date of service OR after we have performed our cleaning. Floor areas must be ready to clean on our arrival (clear of construction or repair activity, foot traffic, equipment, and building materials). Extra remobilization and/or labor charges may apply. Thank you for understanding.